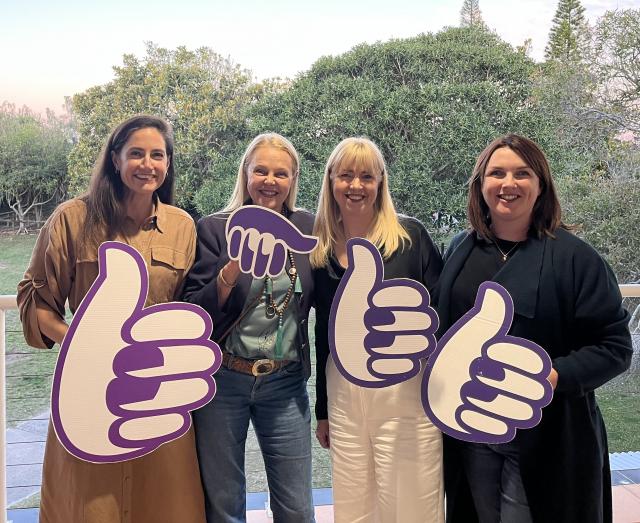 Peregian Family and Friends, recently held its General Meeting, featuring a lineup of exciting guest speakers.
The event, which took place at Peregian Surf Club, attracted an impressive turnout of eager locals wanting to discover the latest about the redevelopment of the Sunshine Coast Airport and the future of flying in and out of the Sunshine Coast.
Headlining the evening was Heather Mollins, head of communications at Bonza, supported by Kylie Ezzy, general manager corporate communications at Sunshine Coast Airport. Sandy Bolton, Noosa MP and Noosa Councillor Amelia Lorentson followed, providing relevant community updates.
Leigh McCready, president and founder of Peregian Family and Friends, expressed her excitement about the event, stating, "Like all locals, I was keen to hear about the thinking behind establishing Bonza on the Sunshine Coast and where the future of the airline will take our region.
"The presentations provided attendees with unique insights into the plans and aspirations for the redevelopment of the Sunshine Coast Airport, while Ms Mollins shared the significance of Bonza as our locally-based airline in shaping the future of the region.
"Ms Ezzy discussed the development's impact on local transportation and tourism, highlighting the numerous opportunities it presents for both residents, visitors and businesses, which preserving its small and user-friendly experience that locals love."
Ms McCready continued, "In addition to our wonderful speakers, Peregian Family and Friends took the opportunity to announce our exciting line-up of events for the second half of the year."
Members and all locals can look forward to a brand-new family-themed event in Peregian Springs. The event will aim to bring together the community and combine music, food trucks, bars and family-friendly activities for everyone to enjoy.
Peregian Family and Friends will again host an annual Spirit of Peregian event. This year will be a collaboration with the fledgling Peregian Beach Surf Club and charity partner Katie Rose Cottage Hospice. Our cherished community gathering not only celebrates the spirit of Peregian residents during the 2019 bushfires but donates each year to a local charity.
To cap off an eventful year, our association will host the highly anticipated Peregian Beach Carols in partnership with the Peregian Beach Business Association and the Peregian Beach Surf Club.
The management committee of Peregian Family and Friends is looking forward to an exciting and rewarding remainder of 2023, as we continue to nurture community connections and create memorable experiences for Peregian locals.