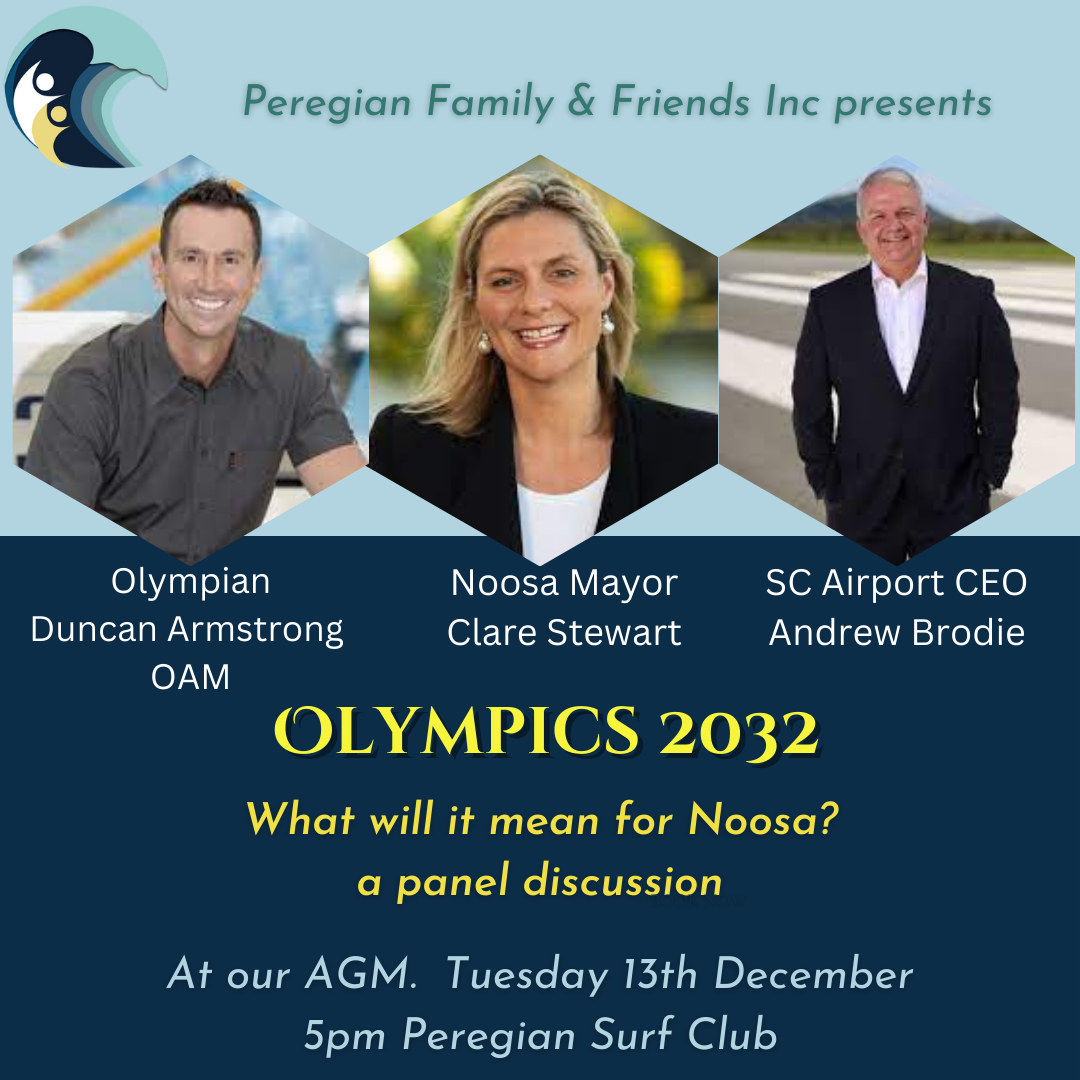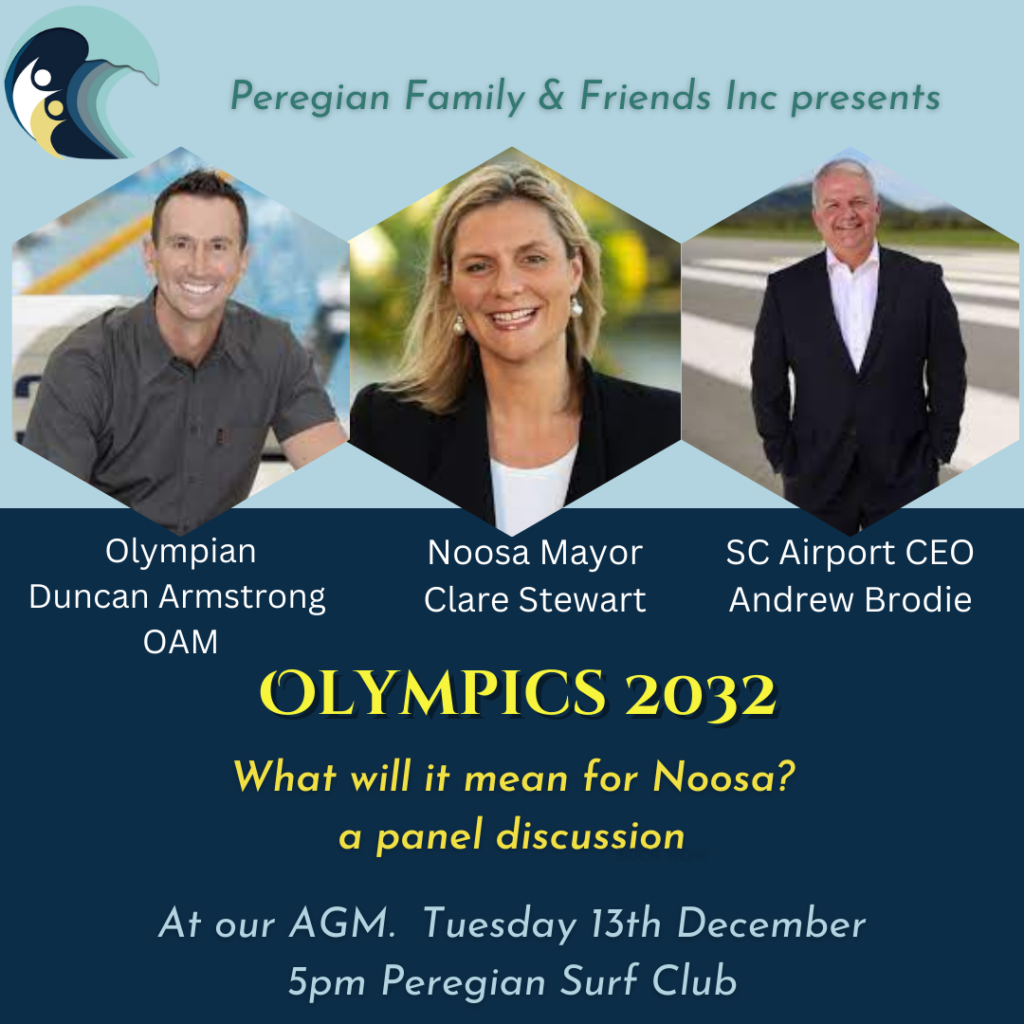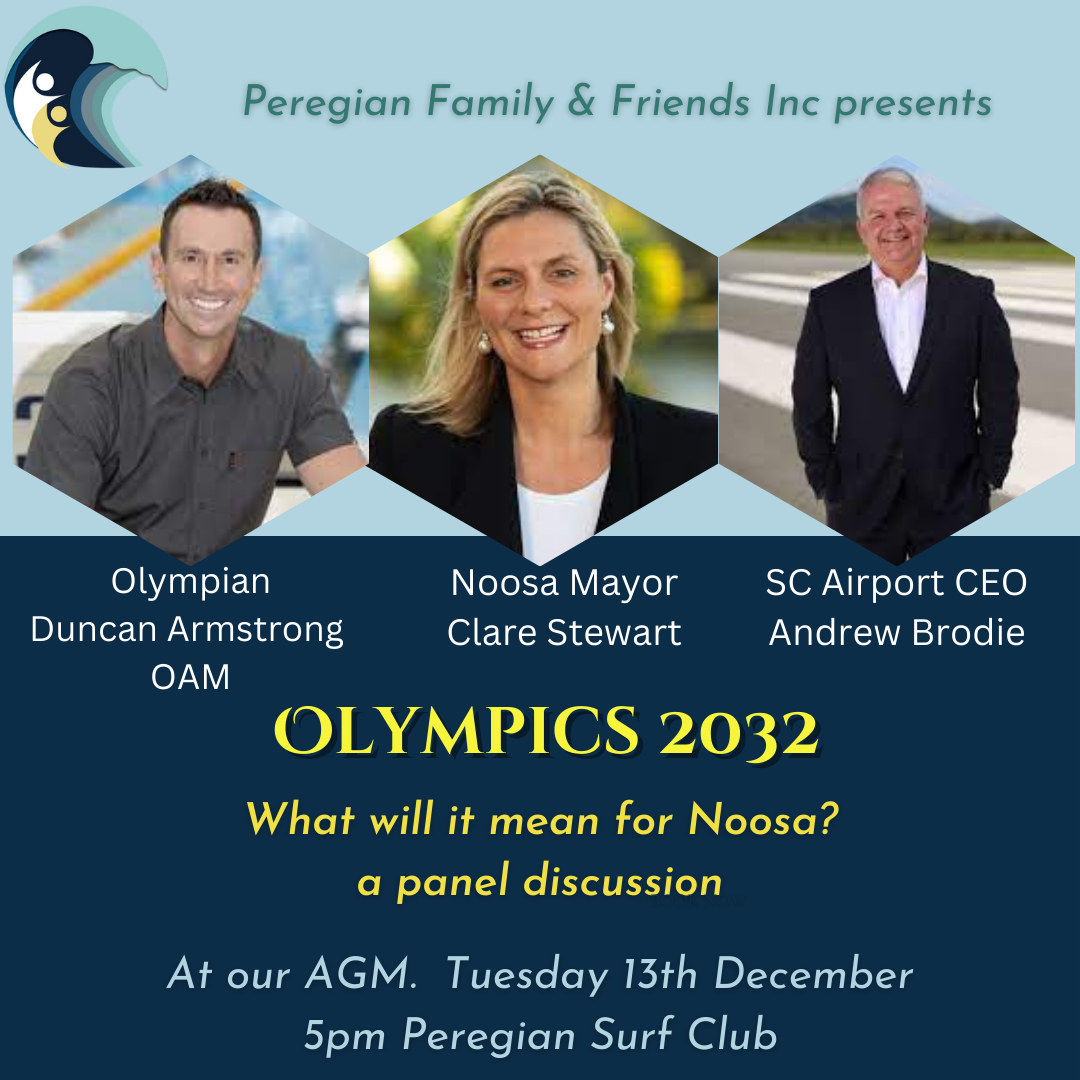 Olympics 2032 – What will it mean for Noosa?
For this not-to-be-missed event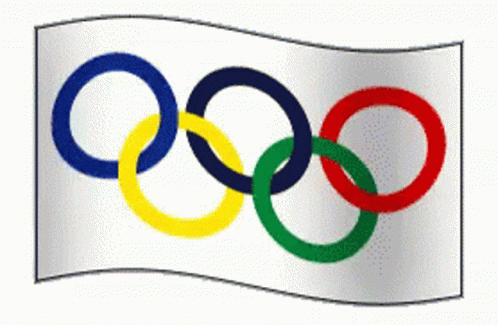 The Olympic Games is the biggest sporting event on Earth. The Paralympics is the greatest showcase of how participation in sport provides positive social and physical benefits to people with disabilities. It plays an important role in changing community perceptions of people with disabilities.
In 2032, both are coming to South East Queensland!
Join us and fellow community members to hear about how both Games will benefit Noosa and the broader Sunshine Coast. Hear from Noosa Mayor Clare Stewart who will describe how the Shire is getting ready for the Games. From Olympian Duncan Armstrong OAM who has seen first-hand the benefits hosting the Olympics brings to a community, its athletes and its volunteers. And from Andrew Brodie, CEO of the Sunshine Coast Airport. Andrew will discuss how the airport will be the entry point for visitors and will enable business opportunities for local companies and industry, to leverage positive & lasting benefits from the Games.
Following a brief AGM, our three panellists will be invited to reflect on the future Games and how Noosa can make the most of this one-in-a-lifetime opportunity. The panel will be moderated by Peregian Family & Friends founder and President Leigh McCready. Leigh also sits on the Board of Sunshine Coast 2032 – the organisation created to be the voice of the Sunshine Coast community when it comes to the future Games.
Drinks and snacks will be served at the event.
Our Panelists
Clare Stewart – Elected in 2020 as Noosa's Mayor.
Clare has recently nominated her proudest achievements in Council to date, as being:
Her work on advocating for improved housing availability via a new Housing Strategy
Strengthening Disaster Management responses and
Her work to prevent and raise awareness of domestic and family violence across Noosa Shire.
Duncan Armstrong – OAM. Duncan is an Olympic Gold Medallist.
He received a Medal of the Order of Australia in recognition of service to swimming in 1989
An Australian Sports Medal in 2000 and
A Centenary Medal for service to Australian society through the sport of swimming in 2001.
He works as a media commentator and corporate speaker. Duncan is also Vice-Chair of Sunshine Coast 2032.

Andrew Brodie – CEO of Sunshine Coast (Maroochydore)
Andrew is an experienced corporate executive. He came to the CEO role in 2019, just before Covid closures decimated the aviation and travel industries. Andrew weathered the storm of the pandemic, pushed for air travel to be revived through international flights and has landed a new domestic airline partnership with Bonza Airlines for the Sunshine Coast.